The Foundation of the American Subcontractors Association (FASA) was established in 1987 as a 501(c)(3) tax-exempt entity to support research, education and public awareness.
FASA is committed to forging and exploring the critical issues shaping subcontractors and specialty trade contractors in the construction industry. FASA provides subcontractors and specialty trade contractors with the tools, techniques, practices, attitude and confidence they need to thrive and excel in the construction industry.
FASA's Mission:
To educate and equip subcontractors and suppliers with the education and resources they need to thrive in the construction industry. Additionally, FASA raises awareness about issues critical to and about construction in the United States.
FASA Cares is FASA's first major initiative, by connecting experienced knowledge holders and resources with those expressing needs, and sharing our learning across ASA's membership.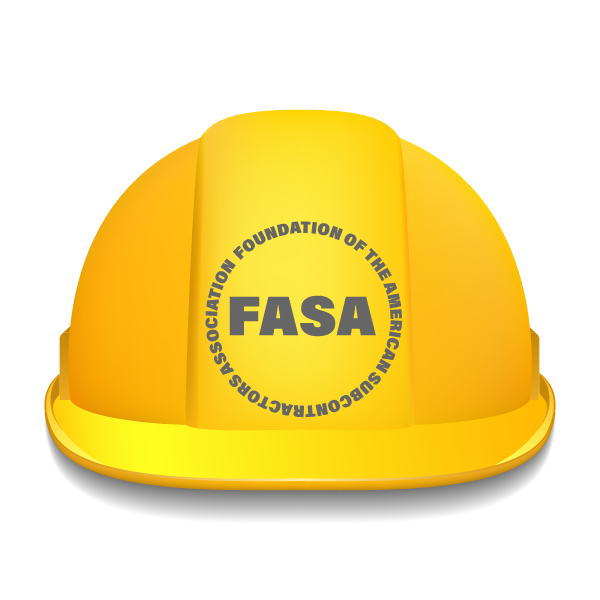 Gold Founders
I. Sharon Dobson
Priceless Industries, Inc.
Baltimore, Md.
Gerry and Linda Graff
Graff Flooring Contractors, Inc.
Albuquerque, N.M.
Silver Founders
William H. Cooper
WACO Steel
Charlotte, N.C.
Robert B. Johnson
Skaneatles, N.Y.
Arthur C. Meushaw
Alexandria, Va.
Tommy Parker
Parker Marine Contractors Corp.
Charleston, S.C.
Floyd and Barbara Warkol
KSW Mechanical Services, Inc.
New York, N.Y.
Founders
Dan Biedenbender
Atlas Iron & Wire Works Inc.
Milwaukee, Wisc.
Frank and Diane Butler
Custom Masonry Corp.
San Antonio, Texas
Patricia Cumor
First Capital Insulation, Inc.
York, Pa.
Sally Hottle
Springfield, Va.
Maynard Hulm
Hulm Construction Specialties
Parker, Colo.
Martin Knott
Owing Mills, Md.
David Miller
Newark, Ohio
Wayne T. Ruth
Hunt Valley, Md.
James Speedy
Houston, Texas
Patrons
Peter Aiello, Sr.
Barber Colman Aiello, Inc.
Yonkers, N.Y.
ASA – Central Ohio Chapter
Columbus, Ohio
Walter Bazan, Jr.
Bazan Painting Company
St. Louis, Mo.
CECO Concrete
Kansas City, Mo.
Rick China
Primo Electric Company, Inc.
Baltimore, Md.
Tara Brown
Unit Design, Inc.
Baton Rouge, La.
The Griggs Family
Phoenix, Ariz.
David Hendrick
Hendrick, Phillips, Schemm & Salzman
Atlanta, Ga.
George Igel
George J. Igel & Company
Columbus, Ohio
Gordon Kaufman
Schneider Electric Company
St. Louis, Mo.
R. David Loewendick
S.G. Loweendick Sons, Inc.
Columbus, Ohio
E. Colette Nelson
American Subcontractors Association
Alexandria, Va.
Denise Norberg & David Johnson
Chicago, Ill.
Jonathan Ostrow
Ostrow Electric Company
Worcester, Mass.
Salinas Reinforcing, Inc.
Livermore, Calif.
Richard Stockenberg
Danna, Soragham, Stockenberg & Shaw, P.C.
St. Louis, Mo.
Ed Windemuller
Tampa, Fla.
Charles Wise
Washington, D.C.
Fred Witters
Seattle, Wash.