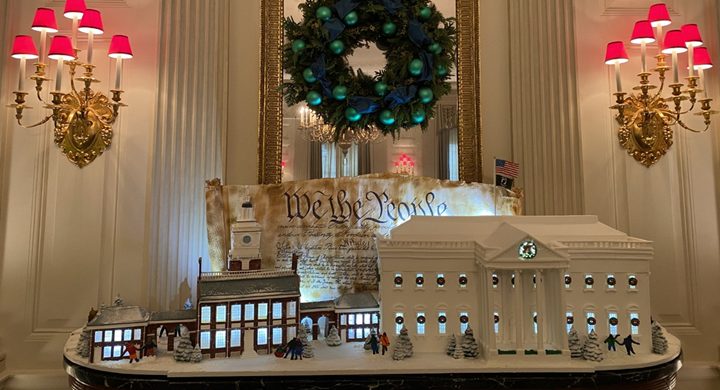 Photo taken at the White House Holiday Reception on Monday, December 12, 2022!
ASA Government Relations 2022 Recap
Despite the ever-changing political, regulatory, and legislative landscape, the ASA Government Relations Team wanted to briefly update you on our 2022 legislative successes as we enter the holiday season. Though this year has proven to be challenging, we offer thanks to our Government Relations Committee (GRC) for their tireless efforts in advocating for our members and industry as we worked to address your 2022 Legislative Priorities.
Click here to learn more about ASA's Advocacy Accomplishments in 2022.
Recently Enacted Laws Impacting ASA
Inflation Reduction Act of 2022 signed into law, August 22, 2022.

$3.45 Trillion in energy and climate programs
The CHIPS and Science Act of 2022 signed into law August 9, 2022 (semiconductors and scientific research)
Oceans Shipping Reform Act signed into law on June 16, 2022 (ports' supply chain issues)
Implementation of the Infrastructure Investment Jobs Act (IIJA) signed into law on November 15, 2021.
 ASA's 2022 Legislative Priorities
R. 8273, the "Small Business Payment Performance Act" (ASA drafted legislation)

On July 14, 2022, the House included H.R. 8273 in the FY23 National Defense Authorization Act (NDAA)

PRICE Act (ASA and AGC drafted legislation)
Opposition to Federal Gas Tax Holiday
Infrastructure Package Implementation
Introduction of Comprehensive Federal Procurement Legislation: change order and statute of repose reform, pre bid transparency in federal contracts
P3 Bonding Water Transportation Projects
The FY23 National Defense Authorization Act (NDAA) included ASA supported procurement policies regarding progress payments, cash flow, military base access, PFAS, architectural and engineering services, and wastewater assistance.  Our top priority for this year's bill was change order reform, but unfortunately the final bill did not address such reform.  In July, Reps. Peters (D-CA) and Stauber (R-MN), the co-chairs of the Congressional Procurement Caucus, addressed change order reform by introducing H.R. 8273, the "Small Business Payment Performance Act." This legislation was included as amendment to the House version of the FY23 NDAA and it would assist small business construction contractors receive timely payment for change orders. Construction firms of all sizes, but especially small businesses, have had to weather the effects of the pandemic and soaring construction materials costs. This commonsense and bipartisan legislation would help ensure that our nation's small business construction contractors do not go bankrupt waiting to be paid for work the federal government ordered them to perform.  We will continue to make change order reform a priority in the 118th Congress.
Additionally, on September 23, the Federal Acquisition (FAR) Council released the final rule implementing an ASA backed reform that will bring unprecedented transparency and accountability to federal agencies' change order processes.  ASA, along with the Construction Industry Procurement Coalition (CIPC), successfully led the legislative effort to include these reforms in the FY18 NDAA responsible for this final rule.
Effective on October 28, this regulation applies to any federal solicitation for small business construction contracts and will require agencies to:
Publish their policies and procedures for processing change orders (REAs);
Begin to track the time it takes the agency to definitize change orders; and
Publish this data on those solicitations and on a public website.
The new regulation will bring transparency to an issue that has long been costing federal contractors time and money. Federal agencies will have to focus on creating coherent policies and procedures for processing change orders.
ASA Addressed the Following Regulatory Issues in 2022:
DOL Proposed Rules: Project Labor Agreements, Independent Contractor, Davis Bacon, Overtime, and Joint Employer
ASA called upon DOT Secretary to delay Buy America, Build America Act (BABAA) in IIJA
Vaccine Mandates (OSHA and Federal) and OSHA Vaccine on Healthcare Construction
OSHA

Healthcare Construction
Blood Lead Levels
Process Safety Management for Hazardous Chemicals
Severe Violator Enforcement
Personal Protective Equipment
Heat and Injury Illness Prevention

Pending EPA HBCD Rulemaking
SBA Surety Bond Guarantee Program – Retention Bonds
ASA Government Relations Director Mike Oscar continued his visits with chapters across the country. Mike visited these chapters to provide our members with a federal legislative, regulatory, and political update. Each of these chapter visits provided a tremendous opportunity to brief members about ASA's efforts to advance subcontracting issues nation-wide, while also highlighting individual chapters.
In 2022, Mike met with the following chapters:
Carolinas
Central PA
New Mexico
Utah
Colorado
Michigan
ASA North Texas
ASA of California
Houston
Kansas
Mississippi
As of December 13, 2022, our social media presence increased with 2,132 people liking the ASA Facebook page, an increase from 1,312 likes from September 2019 and 2,289 people followed the page up from 1,773 followers in September 2019. On Twitter, 3,117 followers, an increase from 2,307 in September of 2019.
Additionally, this year we hosted the following podcasts and webinars:
NASBP's Annual Meeting Podcast with Courtney Little, the AGC and ABC Chairmen
Price escalation webinar with Lee Brumitt
Negotiating Form Subcontracts webinar with Mark Felezzola and Jim Yand
Project Documentation webinar with Brian Carroll
SBA Ombudsman's Office Webinar
Killer Contract Clauses with Bethany Beck
Podcast with Jordan Howard, AGC's Director of Federal & Heavy Construction
Podcast with Dalton Defendis, the Surety&Fidelity Association of America's GRC Director
Finally, the ASA Government Relations Team looks forward to 2023, where we will build on the momentum of this year's advocacy achievements and use our voice to continue to advance our legislative priorities. We want to thank you for your commitment to our initiatives and your passion and purpose propelled many of our 2022 legislative accomplishments.
Our best wishes to you for health and happiness in the new year!