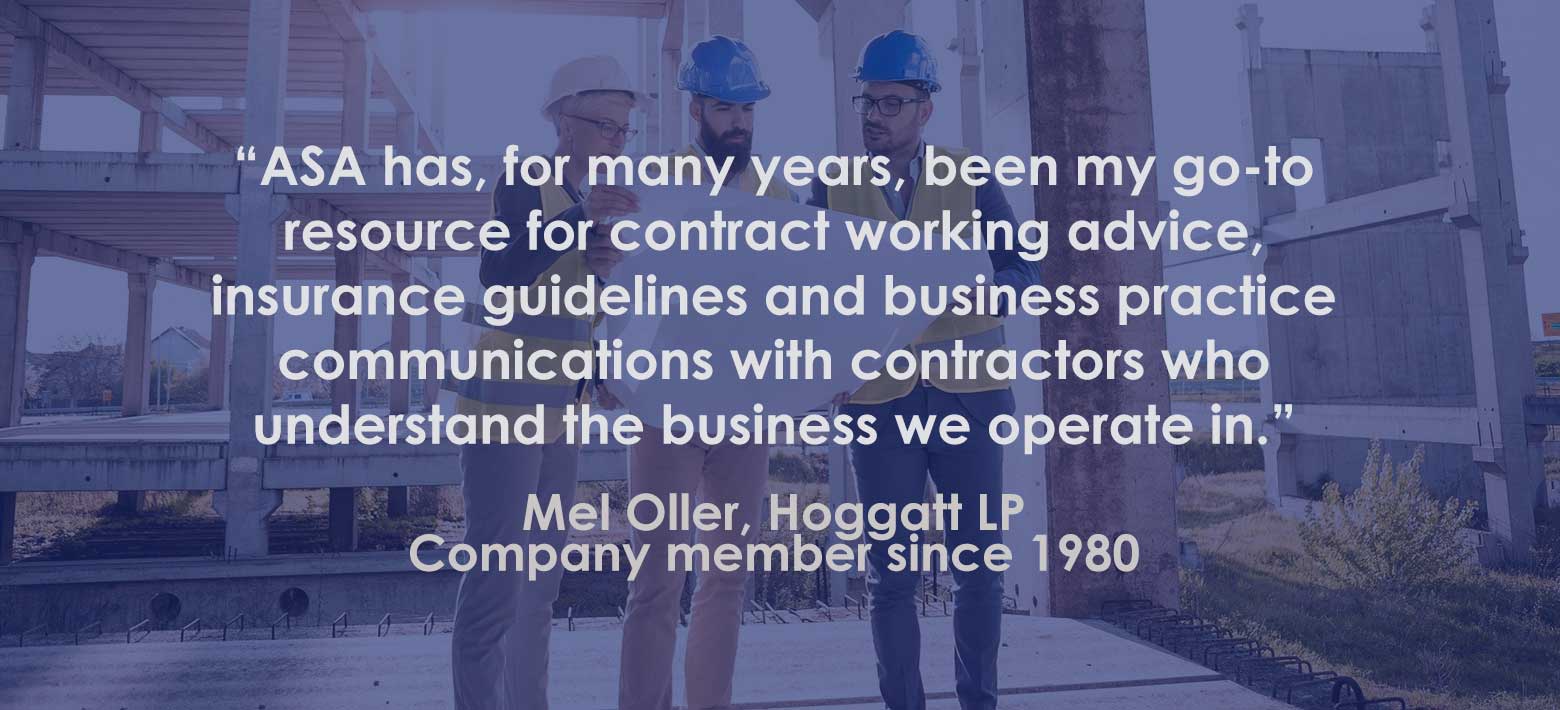 Subcontractors & Suppliers Join the American Subcontractors Association to
Connect Locally

and Project Nationally
Add Your Voice!
31
Local and State Chapters Across the Country
Benefits of Becoming an ASA Member:
ASAdvantage Discount Program

Vast Resource Library 

In-Person and Virtual Educational Opportunities
Features Included in Your ASA Membership
Subcontractors Legal Defense Fund

Government Updates Sent Directly to You

Networking With Peers Locally and Nationally
"Having dealt with many unfair competition practices in the construction industry, I was delighted to learn that ASA Government Relations Committee heard my concerns and supports H.R. 5329, legislation that would free subcontractors from unfair competition practices imposed by government."
Patty Peterson, Director of Organizational
Development, Tindall Corporation, Virginia
" The resource library of contract documents and negotiating tips in ASA's Members-only Info Hub has saved my company on multiple occasions. There is no price I can assign to that. Agreeing to contract terms without a full understanding of what they could mean to my bottom line is just too risky. More than ever, I will continue to use ASA's information for every contract I sign."
Rusty Plowman, President, Delta Drywall, Colorado
" I was roped into serving on a National Task Force by a friend on the ASA National Board of Directors a few years ago and low and behold a few years later…I am on the Board. It's great that I've boosted my resume, but even greater that I have so many new business connections and close friends from my work with ASA National."
Jim Blauch, President, Blauch Brothers, Virginia
SLDF carefully reviews and tackles legal cases with direct impact on our subcontractor community. Those cases are filed in Federal and State Courts all over the U.S. including a case protecting payment rights of subcontractors before the U.S. Supreme Court. Barring pay-if-paid clauses, limiting delayed payments and fighting risk shifting limiting indemnity clauses are just a few examples. The impact of that advocacy on case law and in legal precedent throughout the industry is immeasurable!"
Scott Holbrook, Attorney,
Crawford & Bangs, California
ASA is the only association – national, state or local – dedicated solely to improving the business environment for subcontractors and suppliers in the construction industry. By focusing exclusively on subcontracting, ASA can target the issues that most impact your bottom line.
When it comes to being a part of something - a group, an organization, a team - you want to contribute as well as benefit from the strength of your peers.  The American Subcontractors Association is a national organization with local roots, and joining ASA will be your opportunity to be a part of making the subcontracting industry stronger!