ASA is Dedicated to Making Sure its Members Have the Latest Information Regarding COVID-19
From the ASA President:
Dear Members,
The emergence of COVID-19 in the United States has undoubtedly impacted our members both personally and professionally. Please know that the ASA is a resource to you during this difficult time and is working diligently to ensure you have the most up to date information available from federal agencies along with all pertinent developments related to Congress' response. Please utilize this webpage to stay up to date on the latest COVID-19 information as we all work through this together.
Stay safe!
Sincerely,
Brian Cooper
ASA President
June 21/28, 2021 - Check out this insightful ENR Southwest piece on the impact of COVID-19 on the Subcontracting industry: Click here for article
June 14, 2021 - Nearly three months after its original due date, on Thursday, June 10, 20201, the Occupational Safety and Health Administration (OSHA) finally released its much anticipated COVID-19 Emergency Temporary Standard (ETS). The ETS is much more limited than anticipated and only applies to healthcare and healthcare support service workers.
One of President Biden's first actions upon assuming office was to issue an Executive Order on COVID-19 safety which, among other things, directed OSHA to "consider whether any emergency temporary standards on COVID-19, including with respect to masks in the workplace, are necessary, and if such standards are determined to be necessary, issue them by March 15, 2021." OSHA indicated that it planned to release an emergency temporary standard but missed the March 15 deadline. Then on April 27, the Office of Management and Budget's Office of Information and Regulatory Affairs (OIRA) confirmed that OSHA had submitted an emergency temporary standard for review.
The ETS (which spans just over 900 pages) makes it clear that it only applies to "settings where any employee provides healthcare services or healthcare support services." OSHA estimates that around 10.3 million workers will be covered by the new ETS. Of course, businesses with covered employees will have their work cut out for them to make sure that they are conforming with each and every requirement of the ETS, which includes provisions related to PPE, the physical workplace and paid leave for employees so they can get vaccinated and recover from vaccines. That said, these businesses may be relieved to find that many of the provisions are consistent with prior OSHA guidance and that they are already in compliance in many respects.
For businesses that are not covered by the new ETS, OSHA simply updated its Guidance on Mitigating and Preventing the Spread of COVID-19 in the Workplace. Though many employers have relied on this Guidance to assist them over the last year, compliance with the OSHA Guidance (as opposed to the ETS) is voluntary. That said, since many jurisdictions have drawn from the guidance to create their own state and local rules – some of which are mandatory – it will be important for businesses of all stripes to make sure they are staying in compliance with the rules that apply to them.
CDC New Mask Guidelines
On Tuesday, April 27, 2021, the Centers for Disease Control (CDC) announced new rules on mask wearing outdoors.   The mask guidance states that Americans who are fully vaccinated against the coronavirus no longer need to wear a mask outdoors while walking, running, hiking, or biking alone, or when in small gatherings, including with members of their own households. Masks are still necessary in crowded outdoor venues like sports stadiums.
The CDC guidance can be found here:  https://www.cdc.gov/coronavirus/2019-ncov/daily-life-coping/participate-in-activities.html
President Biden's American Family Plan
On Wednesday, April 28, 2021, President Biden delivered his first address to a joint session of Congress and he announced his $1.8 billion plan entitled The American Families Plan. Here's the White House Fact Sheet - https://www.whitehouse.gov/briefing-room/statements-releases/2021/04/28/fact-sheet-the-american-families-plan/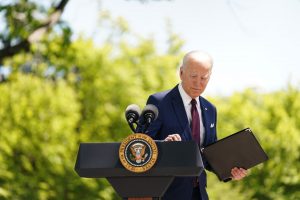 President Biden's American Rescue Plan 
On Wednesday, March 10, 2021, the House passed President Biden's American Rescue Plan.  Click here to review the plan.
RETURNING TO WORK
Both OSHA and CDC regularly update their webpages with reopening guidance relevant to the business community.  We encourage you to regularly check for update guidance at:
OSHA has also released general guidance for preparing workplaces for COVID-19:
For all workers, regardless of specific exposure risks, it is always a good practice to:
Industry-Specific Guidance Documents: In addition to the general guidance above, OSHA frequently issues specific guidance tailored to specific industries. View the construction industry guidance here.
OSHA Issue's New FAQ's on COVID-19 and the Workplace
The Occupational Safety and Health Administration (OSHA) released answers to nearly 40 frequently asked questions (FAQs) on protecting workers during the ongoing COVD-19 pandemic. OSHA's FAQ's now speak to key issue areas including employee testing, employer requirements, use of personal protective equipment, return to work protocols, and cleaning guidelines in the workplace. The FAQ guidance is part of a series of OSHA publications on workplace safety during COVID-19. Click here to review the FAQ's (insert link: https://www.osha.gov/SLTC/covid-19/covid-19-faq.html)
General Resources
Click Here to Download the ASA COVID-19 Resource Guide
Reopening a Business Without Opening Employer Liability- SESCO
ConsensusDocs COVID-19 Resource Center
CDC
CDC: Prepare your business and employees for the effects of COVID-19
CDC Fact Sheet on preparing your business and employees for COVID-19
CDC: Employer Information for office Buildings
OSHA
OSHA Guidance for the Construction Industry
OSHA COVID-19 Safety Standards
Department of Labor
COVID-19 and the American Workplace
EEOC
EEOC Return to Work Guidance,  What You Should Know About COVID-19 and the ADA, the Rehabilitation Act, and Other EEO Laws
SBA Loan Programs
Click Here to Apply for the SBA Economic Injury Disaster Loan Program
Click Here for Information on the SBA Paycheck Protection Program
(Application is in the COIVD-19 section of InfoHub)
Click Here for the Department of Treasury's PPP Loan Guidance Document
(NOTE: Question #46 addresses PPP loan self-certification and review of loans over $2 million)
Click Here for the PPP Loan Forgiveness Application
Click Here to review the Small Business Legislative Council's memo outlining the PPP Loan Forgiveness Application! (NOTE: The ASA is a member of the SBLC)
Click here to review key provisions of the SBA Interim Final Rules on PPP Loans
Click Here to Learn More about the SBA CARES Loans Program
FFCRA New Paid Leave Provisions
SESCO Management Consultants: DOL Releases Revised FFCRA Regulations on Concurrent Leave
IRS FAQ's on Employer Tax Credits for Paid Leave
Click here for IRS Form 7200 for Advanced Payment of Employer Credits Due to COVID-19
Click here for IRS Fact Sheet on New Credits for COVID-19 Related Paid Leave
ASA Members Only Resources
These resources are only available within the MEMBERS ONLY ASA Info Hub.
To access the MEMBERS ONLY ASA Info Hub:
1. Go to the Member Login Page.
2. If you need a Username and Password, create an account.
3. Once logged into the Info Hub, choose "Resources" from the left-hand menu.
4. Choose "COVID-19" from the drop-down menu at the top of your screen.
ASA Government Relations Updates
COVID-19 Resources Available from ASA National Sponsors
We would like to thank the ASA National Sponsors for doing their part to support the subcontracting community during these difficult times.  Please click on the company name to be directed to their COVID-19 resources.