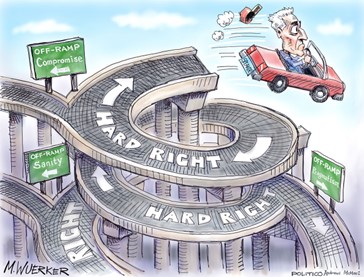 This Week in Congress
This week, the Senate was not in session, but the House returned to elect a new Speaker, along with debating the one-person motion to vacate rule, which became an issue in the race for the gavel, with some Republicans insisting on changing the rule to strengthen the next speaker's ability to govern. Senate Minority Leader McConnell hopes whoever the next speaker is gets rid of the motion to vacate, which he said is a "hammerlock of dysfunction.  I think it makes the speaker's job impossible, and the American people expect us to have a functioning government." On Tuesday evening, House Republicans held a closed-door meeting to discuss their candidates for speaker; Majority Leader Scalise (R-LA) and Judiciary Chairman Jordan (R-OH).  Former President Trump endorsed Rep. Jordan and Democrats selected Minority Leader Jeffries (D-NY) as their candidate for speaker.
Additionally, this past Saturday, a surprise attack by Hamas militants in Israel forced world leaders to prepare for a Middle East war as the death toll climbs and Israeli forces continue to pound Hamas targets, including houses and apartment buildings, in Gaza.  U.S. leaders and political candidates are backing Israel during a crisis that could scramble regional and global imperatives.  Members of Congress lobbied Republican colleagues to resolve their leadership struggle and select a speaker so that they can aid Israel, if needed.  Rep. McHenry (R-SC) has limited abilities in his role as Speaker pro tempore, which he took on following last week's historic vote ousting former Speaker McCarthy (R-CA), but House Republicans could vote to amend the chamber's rules and give McHenry more power.
Finally, Pro-Ukraine Senators from both parties, unnerved by the upheaval in the House, say they want to move quickly to pass a yearlong aid package that far exceeds the amount of aid requested by President Biden in August and would last through the 2024 election.