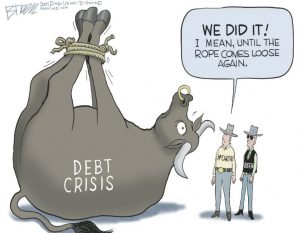 This Week in Congress
Last Saturday, June 3, 2023, President Biden signed the Fiscal Responsibility Act (FRA) to avoid the debt ceiling crisis, and we reported on it last week.  The FRA passed the Senate 63-36, and the House passed it with a vote of 314-117.  After weeks consumed by the debt ceiling debate, Congress will look ahead to more routine legislating such as the FY24 National Defense Authorization Act (NDAA), which we will monitor very closely due to the myriad of procurement-related items included in the legislation.  The Senate will line up votes on President Biden's nominees, and Senate Majority Leader Schumer outlined a handful of policy areas where he hopes for bipartisan agreement.  The two chambers each plan to be back for three weeks before a recess spanning the last week of June and first week of July. They will be in D.C. another three weeks before the August recess.
The House will consider the REINS Act and the Separation of Powers Restoration Act, which both target federal regulators and aim to curtail executive overreach. The REINS Act (Regulations from the Executive in Need of Scrutiny) would give Congress final say on major rules coming from agencies, while the Separation of Powers bill would curtail the deference judges give to regulators.  Also, the House will consider the Gas Stove Protection and Freedom Act and Save Our Stoves Act, which would prohibit the use of federal funds to regulate gas stoves as a banned hazardous product (HR 1615). The legislation would block the Energy Department's proposed rule to establish energy efficiency standards for cooking tops and ovens from taking effect (HR 1640). The Consumer Product Safety Commission has said it is not looking to ban gas stoves, in the wake of findings that they can increase indoor air pollutants and exacerbate respiratory ailments. The White House has said President Biden would not support a ban.
The Senate plans to debate bipartisan proposals around competition with China, artificial intelligence, prescription drug costs, rail safety, and the economy.
Finally, long-term negotiations between both chambers of Congress will continue with the Farm Bill, FY24 NDAA, and the FY24 appropriations.