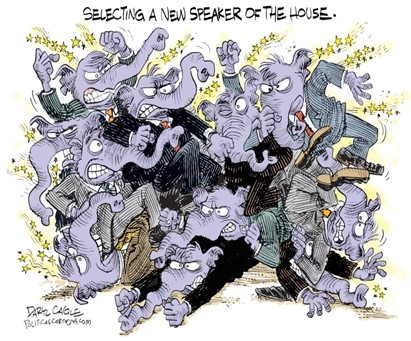 Election of a Speaker
For the first time in a century, a House speaker nominee failed to get the votes on the first ballot.  Since Tuesday, the House has voted on six failed ballots to determine the next Speaker of the House. The House Republicans only have a 222-213 majority; thereby, Kevin McCarthy, the Majority Leader running for the Speakership, only has four Republican votes to lose. The House will keep voting until a candidate gets all 218 votes and the House adjourned Wednesday evening after opposition to McCarthy's speaker bid held firm.  During the sixth ballot vote, 20 Republicans voted for Byron Donalds (R-FL) for Speaker, leaving McCarthy short of the 218 votes for the election.  Rep. McCarthy's opponents are hoping to grow their numbers in support of Rep. Donalds on a seventh ballot. Sources are reporting that McCarthy proposed an offer to Republican opponents that includes several concessions, but no agreement has been reached as of this writing.  Sources are also saying that these concessions would not get McCarthy all of the votes needed for his election.  The concessions include:
allowing one member to call for a vote to oust the speaker;
adding Freedom Caucus members to House Rules Committee; and
promising that votes will be held on certain legislation, including term limits and border security.
Meanwhile, members and staff remain in limbo.  Without a speaker, there are no rules governing day-to-day operations of the House lawmakers, staff, or reporters on the Hill. New and returning members have yet to be sworn in; a speaker must be chosen first, per the traditional order of business. Committee assignments are at a standstill and hiring for some committees is on hold.  Votes to raise the debt limit and fund the government could turn into standoffs that shake the economy, if the GOP standoff over electing a speaker is any indication.  With the House in disarray, Republicans lining up for spots on key committees also remain in limbo. The chaos is especially pronounced for freshman members, many of whom are still hiring and may have only about half their staff filled.  If the House does not adopt a rules package by January 13th, committees will not be able to process payroll or student loan repayments for staffers, "since the committee's authority for the new Congress will not be confirmed." We will continue to keep you posted as the drama continues.