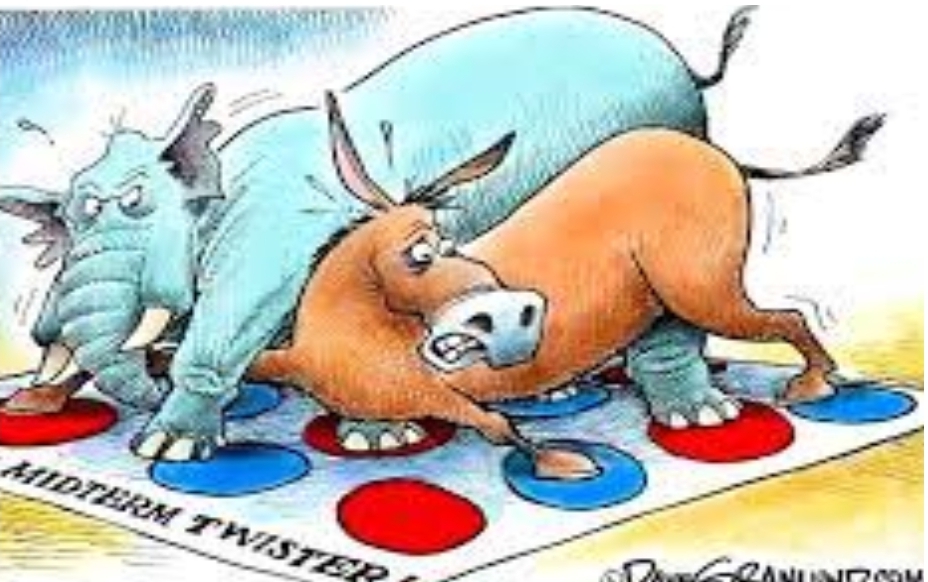 Predicting the 2022 Midterm Elections
With Election Day less than a week away and early voting having already started in several states, I felt it was prudent to analyze the likely outcome of the election and the resulting policy implications.  Per a polling expert, Dan Clifton, of Strategas Research Partners, our country's economic volatility has created political volatility.  Prior to 2008, our country had experienced a steady 3% GDP real growth for many years.  Since then, we've been hovering around a steady 2% real growth.  There have been eight national elections during this period and the party in power has changed in seven out of eight of those elections. Mr. Clifton posits that the reduction in the GDP real growth has caused this political volatility. When we swing from party to party as we have been doing over the last decade, the result is that our policies also swing back and forth like a pendulum creating uncertainty for business and taxpayers.
In 1994, two years in Bill Clinton's presidency, Republicans captured control of the House, ending four decades of Democratic control. While Barack Obama was president, Democrats lost control of the House in 2010 and the Senate in 2014.  During the last midterms, the Republicans lost control of the House in what proved to be groundbreaking victories for female, black, gay, Native American and Muslim candidates.  However, there have been a few exceptions to the rule.  Democrats gained five House seats in 1998 amid efforts to impeach Bill Clinton during his second term. In 2002, two years in George W. Bush's first term, Republicans made gains in the House and took back control of the Senate from Democrats.
Experts further contend that these swings have also contributed to the lack of cooperation and compromise on the Hill.  Why try to come up with a compromise when it's likely your party will be back in power in a few years and if you do compromise it can be held against you in the next primary?  For nearly a decade, I personally experienced the latter having served on the staff of the former U.S. Senator Arlen Specter (D-PA).
Midterms are generally a referendum on the then current President's popularity, which at this point does not bode well for President Biden or his party. On average, in recent decades, the party in power loses an average of twenty-nine seats in the House due to the midterms. This year the Republicans only need to gain six seats to take control of the majority in the House. Unlike the House, over this same period, the party in power has only lost, on average, just one seat in the Senate.  Only Franklin D. Roosevelt and George W. Bush saw their parties gain seats in the House during the midterm elections, and each were dealing with extraordinary situations. Additionally, typically Republicans gain three to six points in the polls from Labor Day to Election Day.
The most recent polling indicates that Republicans are gaining control of the House and Senate at being just slightly over 50% with the odds of Republicans controlling the House and the Democrats controlling the Senate hovering around 40%.  Interestingly, if the election had been held in August, most pundits believed the Democrats would have held both the Senate and the House, but if the election were held today most of the experts believe the Republicans would take back the House, but the Senate would remain 50-50.  If the normal Republican gain between Labor Day and Election Day occurs this year, then the Senate will flip to the Republicans.
Different factors favor one party over the other – for instance, increased gas prices favor the Republicans while decreased gas prices favor the Democrats. The Supreme Court's decision overturning Roe v. Wade has led to what looks to be the largest voter mobilization of women under the age of 40 in our history.   While pundits are always on the lookout for an "October surprise," this year's midterms seem to be focused on four key issues:
Rising inflation and consumer prices. Republican candidates are emphasizing the rising costs of food and gas, with the latest consumer price index showing costs are up 8.2 percent from last year.
Violent crime rates and immigration. Republicans are running on crime rates, border security and immigration, while Democrats are touting support for local law enforcement.
Abortion rights. Democrats are counting on the Supreme Court decision overturning Roe v. Wade to drive turnout among Democrats and independents.
Democrat initiatives. Republican candidates are tying last year's Covid relief package to rising inflation and claiming this year's healthcare, tax and climate change legislation will raise taxes on the middle-class.
There are 35 Senate seats in play this year, of which 24 are projected to be safe for the incumbent party. That includes 15 of 21 Republican held seats, and nine of 14 held by Democrats. The latest polls indicate that Democrats will hold 45 seats, while Republicans are projected to 44. The remaining 11 seats are polling as "competitive," including: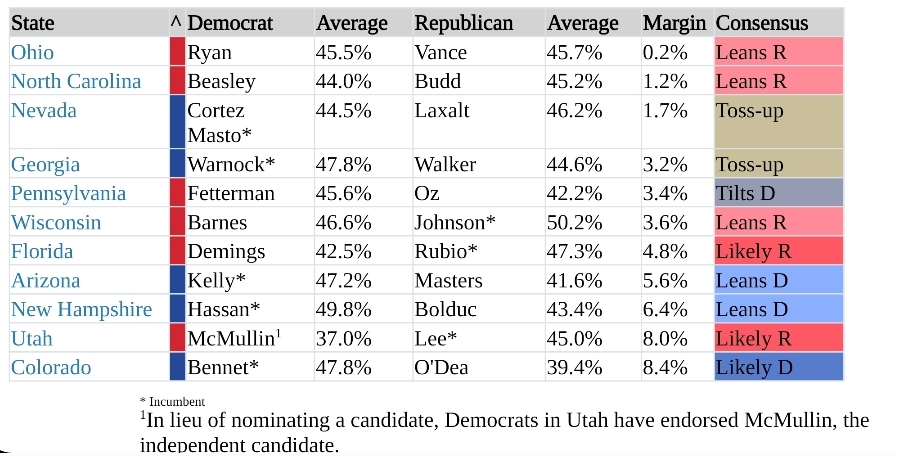 With the Senate evenly divided, Republicans need to net only one seat to take control of the chamber. Their best chances of doing that rest in Arizona and Georgia, both of which are traditionally Republican-leaning states.  Democrats are not defending any competitive open seats or seats in states President Trump won in 2020.  Additionally, Senate races are historically less susceptible to election waves that impact the House, so its possible good campaigns overcome a bad economic environment.  All that said, every election has its political upsets. Two sleeper races to watch this year are:
Iowa: In his six re-election races since first joining the Senate in 1981, Republican Chuck Grassley has never received less than 60% of the vote. Most political observers expect he will win again this year, but a Des Moines Register poll suggested otherwise. The poll showed Grassley with 46% of the vote to retired Navy vice admiral Mike Franken's 43%, a lead within the margin of error. A recent survey was the first time in decades, that more Iowans (48%), disapproved of Grassley's job performance than approved (44%). Grassley is 89 years old, which means he'd be 95 at the end of another term. Nearly two-thirds of voters in the poll said Grassley's age is a concern. If Franken scores an upset, or even if he turns the contest into a close race, it could send a warning sign to Grassley's fellow octogenarians that voters are ready for a change.
Colorado: Most pundits thought Colorado had shed its battleground state status after several cycles in which the state's Democratic lean has been a foregone conclusion, but Republicans are trying to move Colorado back into tossup territory with their challenge this year to Democratic Sen. Michael Bennet, a former presidential candidate who's seeking his third full term. Colorado businessman Joe O'Dea supports some abortion access and believes the 2020 election was legitimate. Bennet is still heavily favored in the race; the polling average has him leading by eight points. Infatuated with O'Dea, Republicans are eyeing the race as a possible long-shot.
With all 435 House seats up for grabs, Republicans need only pick up five seats to take control of that chamber.  Like the Senate, there's always a few election surprises. This year, pundits are closely watching two races in particular:
Connecticut's 5th district: Jahana Hayes was one of the star Democrats of the 2018 class; a former National Teacher of the Year, who became one of the first women of color to be elected to Congress from New England.  She won re-election by 12% in 2020, but her re-election is no longer guaranteed, as she competes against former state senator George Logan.  Both candidates have sought to distance themselves from their national parties; Logan has denounced a national abortion ban, while Hayes has run ads boasting about her work with former President Trump on veterans' legislation.
New York's 17th district: As chairman of the Democratic Congressional Campaign Committee, Rep. Sean Patrick Maloney is responsible for protecting the Democrats' vulnerable House majority, but he's become one of the many Democratic incumbents whose seats may be up for grabs. After a controversial redistricting shuffle and a bitter primary challenge, Maloney is running for a sixth term in the district that includes his home, but it leaves out about 75% of the district he currently represents. Maloney faces Republican state assemblyman Mike Lawler, who has benefited from a surge in GOP fundraising support.
Anything could happen, so if gas prices go down, or President Biden's approval rating goes up or former President Trump is indicted and/or the pollsters have somehow ignored or failed to account for that massive group of new women voters under 40, or one of the Republican or Democrat contenders for the Senate makes a major mistake, then all of the above can change.  As of now, though, the polls suggest that we are heading for a Republican takeover of the House and potentially the Senate.
Adding to this mix is that the vote in Pennsylvania will take a long time to be counted so it is unlikely we will know who will replace Sen. Toomey (R-PA) on election night.  In Georgia and Louisiana, if neither candidate gets over 50 percent of the votes on November 8th, then
Georgia's runoff date is December 6th, while Louisiana's runoff date is December 10th.
Conceivably, we may not know who controls the Senate until December! If we end up with a Republican House and a Democratic Senate, then we will witness an immeasurable amount of gridlock during the last two years of the Biden Administration.