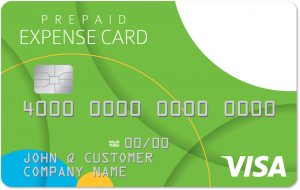 Business Prepaid Cards Simplify Per Diem for Subcontractors
As a subcontractor, you know that it takes a lot of moving parts to get the job done. Deadlines, materials and employees are just a few things you're juggling at any given point. It takes a lot of time, energy and focus to run your business – particularly from a financial standpoint.
When you have a lot of employees needing per diems and incurring job site expenses, a subcontracting company needs a system to efficiently coordinate this outflow of money. It can be a tedious and inefficient process.
Many subcontractors have found a turnkey solution to this challenge through value loaded business prepaid cards. These should not to be confused with credit cards; prepaid cards cannot be used until you load dollar values to them. Business prepaid cards can be issued to your employees to purchase goods or services.
It's a perfect solution for managing expenses because of its business benefit, including:
Control – With a value loaded business prepaid card, you have a tighter grip on how your company's money is spent. You can set the amounts you load, giving you a way to cap expense spending. Depending on their job function and responsibilities, you may have a higher cap for some employees than others. You may also control where the card can be used, if a card can access cash via ATM machines or get cash back during a purchase.
Automation – With boots on the ground and deadlines to be met, subcontractors can take advantage of the ability to load and unload funds quickly and in real time. This is especially helpful if a worker needs more money than expected. In the case of employee per diems, you can schedule the load amounts for recurring dates. In some cases, you can also recoup any funds that aren't spent on a prepaid card; you just have to unload the money back into your business account.
Efficiency – Reimbursing employees can be cumbersome and time consuming. The ease of business prepaid cards inherently increases efficiency because the need for check reimbursements is eliminated. Online reporting can make reconciling accounts and matching expenses to their appropriate employees or projects easier.
Acceptance – Your employees won't be stuck without a way to buy meals or materials. Whether your employees are purchasing items at a mom-and-pop shop or a national chain, they can confidently use business prepaid cards. Look for value loaded prepaid cards with EMV chips for enhanced transaction security.
Transparency – Oversight on expenses is key to managing your budgets. With many business prepaid cards, you can monitor transactions by card, date, amount and merchant as they happen. You'll also be able to immediately identify any potential fraud issues. If there is suspicious activity, the card can be 'turned off' until the issue is resolved.
Security – Companies can mitigate risks by using business prepaid cards. If a card is lost or stolen, you can cancel it immediately, and often, you can quickly re-issue a card so your employees aren't slowed down by the mishap.
Protection – Finally, value loaded business prepaid cards can guard your organization's financial interests. The ability to limit funds, maintain real-time oversight and have liability protection are tools that offer your business protection.
If you're considering business prepaid cards for your business, look for those that offer these best-in-class benefits:
Adding or removing funds in real time
Setting up recurring expenses
Unloading unspent funds
Turning cash access on or off
Replacing lost or stolen cards quickly
Restricting specific merchant categories, if needed
Setting spending limits
Some issuing banks or card programs will require you to have an account with them to take part in their business prepaid card program, but some don't. It's good to compare programs. You should also ask about any fees associated with loading and unloading funds.
Business prepaid expense cards are a valuable tool for subcontractors. They can provide many benefits that businesses can use to increase productivity, reduce risk and manage expenses.
Robyn Montoya is an Assistant Vice President for Prepaid Card Partnerships at Commerce Bank. The CommercePayments™ Prepaid Expense Card provides companies flexibility in spend management for their employees – such as per diem, travel expenses, and a wide range of other purchasing needs.
For more information about the Prepaid Expense Card program and to learn about discounted pricing for ASA members, email prepaidexpense@commercebank.com, visit www.commercebank.com/expensecard, or call 866-946-3017.